5 Ways WAN Transformation Increases Health Care System Optimization
August 9, 2017
You are not feeling well, so you decide to visit the local clinic for a checkup. What level of service do you expect? Probably the same you would get from a larger hospital or medical center. However, inconsistency between locations and different health care providers is always a possibility, due in part to WAN-related issues:
Many WANs in the industry are local and provider-specific, e.g. within doctor's offices or across hospital campuses. These designs can complicate data sharing between isolated sites and increase reliance on the public Internet and VPN tunnels for exchanging records.
But health care is a highly regulated industry, which raises the stakes for WAN security. The Ponemon Institute estimated that at $355 per record, health care breaches are the costliest of any sector. So providers must be able to trust broadband links as potential alternatives to MPLS.
In addition to interoperability and security challenges, most health IT systems – including WANs – are outmoded. An Imprivata study found that care providers lost $8.3 billion a year to ineffective legacy technologies. Unsurprisingly, they also face difficulties connecting the WAN edge to modern cloud-based applications.
Software-defined WANs help revitalize health WAN edge infrastructure. With a solution from an SD-WAN leader, providers can unlock five essential benefits for better network interoperability from one site to the next:
1. Hybrid WAN Support
By combining multiple links (i.e., MPLS and Internet) in an SD-WAN, health organizations gain freedom from any single telecom or transport type. Flexibility earned from the hybrid wan translates into more manageable failover scenarios and faster provisioning times than on traditional WANs. As a result, they can reduce downtime of critical patient and administrative applications, as well as over-provisioning and reliance on expensive MPLS bandwidth, if not eventually move away from legacy altogether.
2. Superior QoS
SD-WAN supports sustained high utilization of bandwidth for shared inbound and outbound links. Last mile links do not suffer the performance penalties that would otherwise degrade application access and drive up overhead at remote offices and clinics. The upshot of better quality of experience is easier exchange of data across all major health care applications.
"SD-WAN supports sustained high utilization of bandwidth for shared links."
3. Access to Cloud Applications
Health care is in the midst of a broad shift to cloud-based IT. For example, Ameri Research cited it as one of the key verticals in the rapidly growing VoIP market. Guest Wi-Fi and file sharing for electronic health records are also central cloud apps. SD-WAN enables a smoother on-ramp into the cloud via predictable QoE for SaaS and virtual appliances for Microsoft and Amazon Web Services.
4. Streamlined Security Infrastructure
Security is paramount on health care WANs. SD-WAN makes it simpler to stay on top of, thanks to a centralized architecture and the replacement of dedicated hardware for site-to-site IPsec connectivity. Other features, such as path encryption and virtual security services run through cloud breakouts, ensure the privacy of protected health information.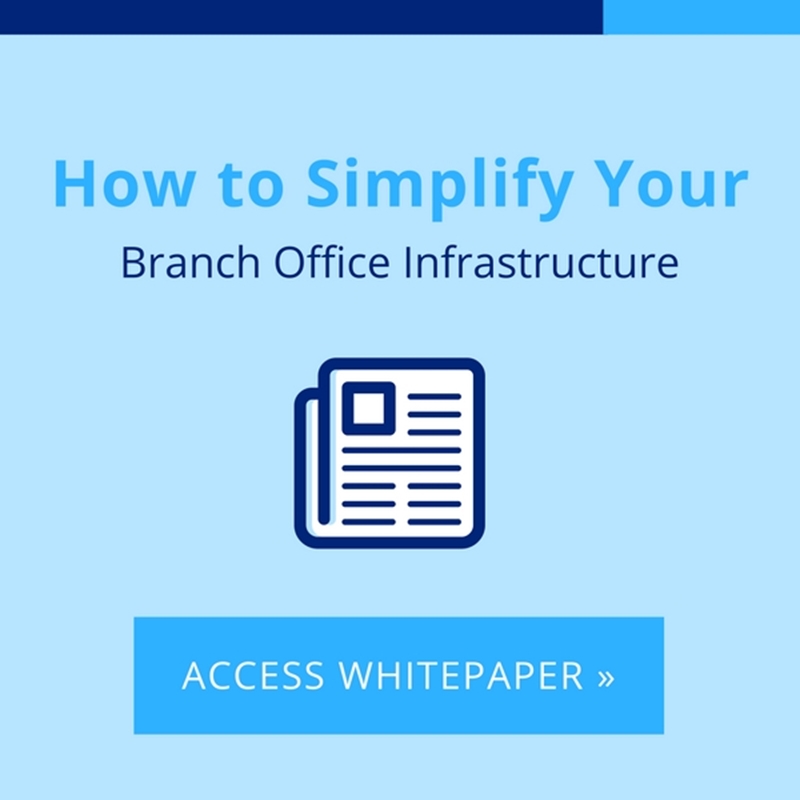 5. Lower TCO
An SD-WAN can reduce monthly WAN costs by 40 percent or more while providing much more bandwidth per dollar than a traditional MPLS. Care providers can achieve lower total cost of ownership (TCO) to free up funds for other modernization projects.
Request a demo or contact us today to get started on the road to a better WAN.
Categories: Software Defined WAN (SD-WAN), IT Challenges, WAN to Cloud, Network Reliability, Internet as WAN (MPLS Alternatives), Hybrid WAN, Intelligent WAN
---